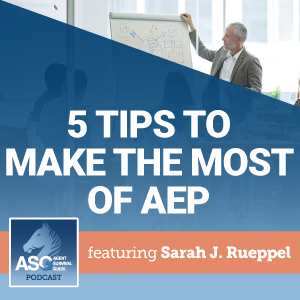 Kick off AEP with these 5 sales and marketing tips. We want this Annual Enrollment Period to be your most successful season yet! 
Mentioned in this episode:
How to Market Yourself Effectively
How to Prepare for AEP Like a Pro
Secure a Bigger, Better, Business with Ancillary Products
More episodes you'll like:
5 Must-Haves for Every Insurance Agent This AEP
Are these must-haves part of your strategy for this Annual Enrollment Period? They should be! Listen as we highlight five essentials to simplify your Medicare sales this AEP.
Be Prepared to Discuss Medicare Telehealth Coverage This AEP
Are you prepared to talk about Medicare telehealth benefits this AEP? Whether you call it telemedicine, telecare, or a virtual visit, these benefits are growing in popularity. Learn how your clients can utilize them, which beneficiaries are most likely to access them, and more!
Get ready to make the most of AEP! We just launched our newest resource page - Surviving AEP - on the Agent Survival Guide Blog. If you want to really thrive this Annual Enrollment season, check it out! We talk AEP prep, AHIP, compliance, and more. There's even an opportunity for a portfolio review. Find "Surviving AEP" online at ritterim.com/aep!
Organization Tips and Tricks for AEP
Don't get stressed out over AEP, get organized! The Annual Enrollment Period can be a stressful time for insurance agents - but it doesn't have to be for you! Listen to learn tips and tricks to make this AEP go smoother than ever.
Prepare for AEP with the Agent Survival Guide! The Annual Enrollment Period will be here before we know it! Use our checklist to plan ahead, and you'll be "ready-to-sell" with plenty of time to spare.
The latest from Ritter's Blog:
How to Prevent Insurance Agent Negligence
As an insurance agent, you know by now how important it is to remain compliant. While following the Medicare Communications and Marketing Guidelines should be one of your top priorities, there is something else you'll want to keep on your radar that you may have not yet considered: preventing insurance agent negligence.
Ritter Acquires Maryland-Based Secure Benefits Alliance
Ritter Insurance Marketing today announced the purchase of Secure Benefits Alliance (SBA), a Maryland-based health and life benefits agency. In order to expand and strengthen Ritter's growing footprint, this deal will bring SBA agents into the Ritter fold, providing them with cutting-edge technology and support through Ritter's service platform.
How to Keep Your Product Portfolio Fresh
As an agent in the Medicare insurance industry, you need to stay competitive. An effective way to do this is by routinely examining your portfolio to determine if you're prepared to work at your full potential.
Subscribe & Follow:
Connect on social: