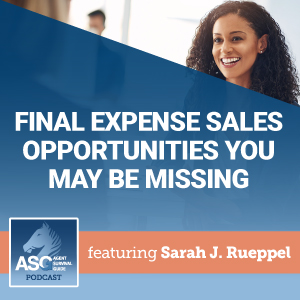 There's more to final expense insurance than you may think — it's not just burial insurance! Learn about the different types of FE insurance available, sales strategies, types of cases, and more in this episode of the ASG Podcast!
Mentioned in this episode:
4 Steps to Every Final Expense Sale
Contact Ritter's Final Expense Team
Life Insurance for Each of Life's Stages
Ritter's Final Expense Carrier Sweet Spots
More episodes you'll like:
4 Reasons Why Ritter Should Be Your FMO Insurance Agency
Looking for an FMO? Not sure what a field marketing organization like Ritter Insurance Marketing can do for your insurance business? Learn everything you need to know in this can't-miss episode of the ASG Podcast!
4 Steps to Every Final Expense Sale
Master your final expense sales pitch with these steps. We discuss how to bring up the subject of final expense with confidence and convert more prospects into clients.
5 Out-of-the-Box Ideas for Selling Final Expense Insurance
Pitching final expense insurance may seem challenging, but it doesn't have to be! We've got five concepts to work into your presentation strategy before your next sales appointment!    
FAQs About Working with Ritter Insurance Marketing
Have questions about partnering with Ritter Insurance Marketing? Not sure what a field marketing organization is, or how joining one can help your insurance business? Curious about lead programs, CE credits, and other opportunities FMOs like Ritter have to offer? We talk with our sales team to answer common questions about working with FMOs and more!
How to Add Technology to Your Insurance Business
Ready to bring technology into your business? Not sure where to start? Listening to this episode is a must if you've been thinking about adding technology to your insurance sales process.
Tips for Cross-Selling Medicare Products
Maximize your insurance business and your profits by cross-selling. We've put together a list of tips to help you get started!
The latest from Ritter's Blog:
The Top 5 Products to Sell During Medicare's Lock-In Period
Which products should a Medicare sales agent sell outside of the Annual Enrollment Period to keep earning commissions? We've got the top five additional plan types that should be a part of an agent's portfolio during the... (read more)
Why Go About Your Business in an Ethical, Compliant Fashion?
We've already told you the many ways you can remain compliant as an insurance agent. In this article, we want to focus on the "why." Why should you go about your business in an ethical, compliant... (read more)
The Agent Survival Guide Has a New Home
Big things are happening with the Agent Survival Guide in 2020! Now, all our Agent Survival Guide content is available on RitterIM.com. Here's everything you need to know about the... (read more)
Subscribe & Follow:
Connect on social: