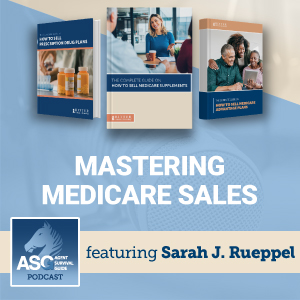 Just starting out in Medicare sales? Get three of our sales training eBooks FREE when you register with Ritter! You'll learn how to sell Medicare Advantage, Medicare Supplements, and Prescription Drug Plans!
Mastering Medicare Sales:
Are you just starting out in Medicare insurance sales? Become a Medicare sales champion with our eBook series! How? Simply register with Ritter and you'll get our FREE Mastering Medicare Sales eBook Trio.
How to Sell Medicare Advantage Plans
How to Sell Medicare Supplements
How to Sell Prescription Drug Plans
Inside these three eBooks, there are hundreds of pages of info to help you get your footing! Our tips and tricks can help you succeed as an insurance agent selling Medicare.
But that's not all!
When you register with Ritter Insurance Marketing, you get complete access to our FMO's benefits.
We're talking industry-leading CRM, quoting and enrollment tech, competitive contracts, regular training, annual Summits and so much more.
Even better? Our friendly 200+ expert staff is here to help with all your insurance agent needs. And we can't wait to help you get started!
So, what are you waiting for?!
More episodes you'll like:
June 4, 2021 | The Friday Five
The Friday Five for June 4, 2021: The Medicare Plan Finder reviewed, CMS and Medicaid value-based price agreements, Amazon pharmacy rumors, How Medicare works on vacation, and Twitter news and rumors.
Do You Have What it Takes to Be a Great Insurance Agent?
Searching for a new career? Get the details on becoming an insurance agent and learn why the industry could be your next career move!
How to Check for Your First Looks
Get your First Looks and get ready to succeed this AEP! In this episode, we talk carrier first looks, how to find them on the Ritter platform, and what you can do with the info you learn!
Selling Medicare Products – Why It's Definitely Worth Your While
Why sell Medicare insurance products? We outline the reasons to start a career as an independent insurance agent in the Medicare market. Listen now to learn more!
The Pros and Cons of Selling Insurance
Becoming an insurance agent is a big decision. If you're thinking about joining the insurance industry, this is the episode for you! We weigh the pros and cons of selling insurance, so you'll have a better idea of what you're getting yourself into before you take that leap.
How do insurance agents get Medicare leads? Find out in this episode of our ASG Podcast. We outline the best practices to help you stay compliant.
What an FMO Can Do for Your Business
Why work with an FMO? What is a Field Marketing Organization? Whether you're just starting out or on the fence about joining an FMO, this can't-miss episode has all the details!
Articles to Share with Your Clients:
All About Getting Your COVID-19 Vaccination
There are many questions surrounding the rollout of the COVID-19 vaccination. When can you get one? Where? Is it safe? We're giving you some answers and resources where you can find additional information!
Allergies are very common and can be a real drain on your quality of life. In worst cases, they can even be deadly. How can you go about life dealing with allergies?
Stay Fit, Even When You're Stuck at Home
If you want to get fitter, but the gym isn't an option, what are some equipment-free workouts or exercises that you can do at home?
The latest from Ritter's Blog:
2021 State of the Senior Market: In Review
Craig Ritter, CEO of Ritter Insurance Marketing, recently gave his annual State of the Senior Market address to 412 agents, who attended from all across the U.S.
Advertising Medicare Through Facebook
In a world where social distancing has become the norm, we've all turned to social media to stay connected with others. Why not advertise Medicare on social media and grow your insurance business digitally?
Prospecting for Clients for Dental, Vision, and Hearing Insurance Sales
If you're considering selling dental, vision, and hearing (DVH) plans, where would you find leads? You might be surprised to learn that your DVH prospects could already be in your Medicare book of business!
Subscribe & Follow:
Connect on social: