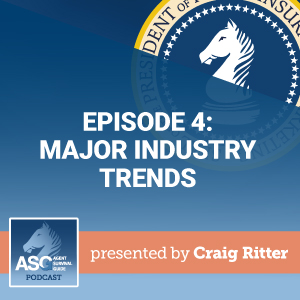 In our final episode, Craig discusses major industry trends in the current Medicare market. What does he think we'll see in Medicare Advantage and Medicare Part D plans for AEP 2021? Craig also covers the increasing value in the senior market, more ad spend from carriers, and how you can grow your business, even as the market grows and evolves. You don't want to miss this installment!
State of the Senior Market Podcast Episodes:
A Word from Our President, Craig Ritter | State of the Senior Market 2020
The Year in Review | State of the Senior Market 2020 Episode 1
Medicare Regulation & Legislation | State of the Senior Market 2020 Episode 2
Enrollment Stats for 2020 | State of the Senior Market 20202 Episode 3
Major Industry Trends | State of the Senior Market 2020 Episode 4
Q&A with Craig Ritter | State of the Senior Market 2020
Mentioned in this episode:
Ritter Insurance Marketing Website
More episodes you'll like:
March 27, 2020 | The Friday Five
The Friday Five for March 27, 2020: the coronavirus stimulus package; how to help during COVID-19 pandemic; Instagram debuts new feature; Zoom lets you video chat for free; new to streaming for April 2020
4 Reasons Why Ritter Should Be Your FMO Insurance Agency
Looking for an FMO? Not sure what a field marketing organization like Ritter Insurance Marketing can do for your insurance business? Learn everything you need to know in this can't-miss episode of the ASG Podcast!
How Professional Organizations Make You a Better Agent
Joining a professional organization could be just the boost your career needs. Learn five ways this strategy can benefit you and your insurance business.
How to Add Technology to Your Insurance Business
Ready to bring technology into your business? Not sure where to start? Listening to this episode is a must if you've been thinking about adding technology to your insurance sales process.
How to Market Yourself More Effectively
Not sure where to start when it comes to marketing yourself or your insurance business? Need to refresh your current marketing strategy? Listen to our marketing tips for insurance agents in this episode of our ASG Podcast.
Tips for Cross-Selling Medicare Products
Maximize your business and your profits by cross-selling. We've put together a list of tips to help you get started!
What Is E&O Insurance and Do You Need It?
You've worked hard to create and grow your insurance business — but how do you protect your investment? Even insurance agents need protection. In this episode, we make the case for errors and omissions (E&O) insurance.
The latest from Ritter's Blog:
The Best Software for Tracking Your Medicare Commissions
You may enjoy selling Medicare Advantage, Medicare Supplement, and Part D plans because you like helping others, but you and your family may also depend on the commissions your insurance career or side hustle provides.
Examining the Medicare Part B Premium Giveback
The standard monthly Part B premium cost for beneficiaries in 2020 is $144.60. Wouldn't it be nice if your clients could get some of that money back? Good news, this is a possibility!
The Top 5 Products to Sell During Medicare's Lock-In Period
Which products should Medicare sales agents sell outside of the Annual Enrollment Period to keep earning commissions? We've got the top five additional plan types that should be in your portfolio during the rest of the year!
Subscribe & Follow:
Connect on social: